---

About the race.
From the 1st April, send back 20 Bosch spark plug barcodes for a chance to win a selection of prizes. The first round will last for three months and will close on 30th June. The second round will also last for three months and will be closing on 30th September. Each time you send back 20 Bosch spark plug barcodes, you gain a further entry into the lucky draw.
Prize draw rounds
There will be two rounds of prize winners for the lucky draw.
1st round: 1st April - 30th June. 2nd round: 1st July - 30th September.
Register here
You are an extra participant but have forgotten your password
---
1st Place Prize.
Enter for your chance to win this bundle which could provide the benefit of speedy and precise diagnostics for your garage! The more barcodes you send back, the more entries you gain!
One bundle available each round.
KTS 590
The new, robust communication module optimally suited for the use of ESI[tronic] 2.0 software and is also equipped with parallel channel communication, can be used to perform PassThru and is the first product in the aftermarket with Diagnostics over Internet Protocol (DoIP)!

ESI[tronic] 2.0
With the newest data on all standard vehicle types, ESI 2.0 allows intelligent troubleshooting, support for rapid repair and maintenance instantly. It gives fast and reliable repairs for excellent results and helps to maintain high customer satisfaction!

DCU 220
Its powerful Intel Core processor and flexibility make this unit from Bosch the new standard for test equipment. It is perfectly suited to the rough workshop environment and works efficiently with the KTS 590 and ESI[tronic] 2.0.



---
2nd Place Prize.
Limited edition Bosch spark plug
motorsport trophy!



Actual motorsport spark plug
Engraved Bosch logo
Made from zinc-alloy matt material
Presented in a sleek box for protection








---
3rd Place Prize.
Bosch OBD 100 - a workshop essential
- 50 available each round!



Freeze frame data on screen
Vehicle information on screen
Manufacturer enhanced definitions
On screen readiness codes (I/M Monitor)
VIN on screen
---
To be eligible to participate in the promotions.

Register
Sign up online to the extra rewards programme (www.extra-rewards.co.uk). Once you have registered, you will receive an email with a link to activate your extra account. Once activated, we will send you a welcome pack.

How to enter the promotion
Set up and activate your extra rewards account. Purchase 20 Bosch spark plugs within the period of 1st April to 30th June 2017 (first lucky draw) or 1st July to 30th September 2017 (second lucky draw). Cut out the barcodes for the single packaging and send the 20 barcodes to the extra processing address, below, no later than 30th June 2017 (1st lucky draw) or 30th Sept 2017 (2nd lucky draw). Promotion valid in UK excl. N. Ireland.
Anglia Forwarding Ltd, Attn: extra Barcode dept, The Anglia Centre, Blackwater Close, Fairview Industrial Park, Rainham, Essex RM13 8UA

The Prize
Within 3 weeks of each respective closing date, all valid entries will be entered into a prize draw for a chance to win either first prize of a KTS590 + DCU220 + 1 year subscription to ESI 'Diagnostic master package' including EBR. Or second prize of 1 of 25 Bosch spark plug motorsport trophies as described in the promotional material or 1 of 50 OBD 100 diagnostic tools.
The first promotion period will commence on 1st April 2017. The closing date for receipt of entries is 23:59 (GMT) on 30th June 2017.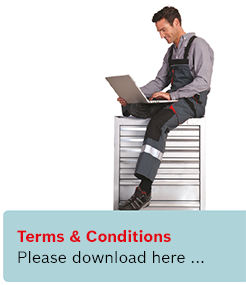 The second promotion period will commence on 1st July 2017. The closing date for receipt of entries is 23:59 (GMT) on the 30th September 2017.
Full terms and conditions for participating in the promotion can be found on the website www.extra-rewards.co.uk. The promoter is Robert Bosch Ltd (Broadwater Park, North Orbital Road, Denham, Uxbridge UB9 5HJ).
Have a question?
Contact the extra service centre using the free hotline, or alternatively email us.
UK Tel:
0800 028 3216 |
Email:
info@extra-rewards.co.uk
Service centre opening hours:
Monday to Friday 10am - 4pm
How to manage your personal account
Check your account in one click on www.extra-rewards.co.uk. You can easily check the points that you have accumulated and your last recorded transactions. You just need to log in using your email address and password.
---
Promotion Flyer.
Klick here to download the promotion flyer...